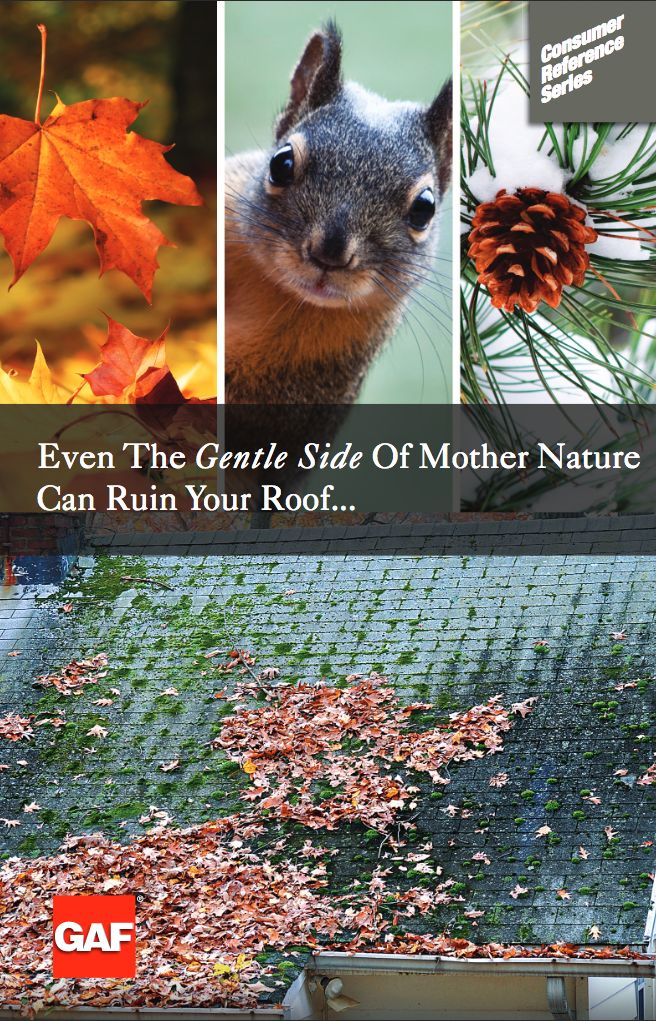 Mother Nature Never Rests! Should You?
Extreme weather, animals, leaves, falling debris, satellite or cable work, accidents can cause immediate and serious damage to a roof – even a new one. The National Roofing Contractor's Association recommends that roof inspection and maintenance be performed regularly to help avoid future problems.
But most property owners do not have the expertise (or desire!) to get onto their roof and look for problems. That's why a thorough inspection, performed regularly by a professional roofing contractor, can monitor your roof's condition and help prevent small problems from becoming major roof leaks.
If You Want Something To Last, You Have To Maintain It.
After all, you wouldn't expect:
Your furnace to perform efficiently if you never changed the filter
Your car to run smoothly if you never changed the oil
Yet, homeowners install a roof and think that's the end of the story. It's not.

We Can Help Protect Your Most Valuable Asset
As a GAF MasterElite Contractor, we use GAF's comprehensive roof inspection checklist that includes the most vulnerable items on your roof.* This rigorous program was developed by GAF's roofing experts and is based on the results of thousands of real-world roof inspections. It's exactly what you would expect from North America's largest roofing manufacturer!
Our program includes:
Yearly inspections per GAF's program

Communication of your roof's maintenance needs

Maintenance-related repairs as necessary to help avoid future problems

Documentation that needed repairs have been made
This will give you the peace of mind you need to know that your new roof is performing as it was intended.
https://roofingprofessor.com/wp-content/uploads/2023/06/AR_288_Logo.svg
0
0
Academy Roofing
https://roofingprofessor.com/wp-content/uploads/2023/06/AR_288_Logo.svg
Academy Roofing
2018-08-01 16:56:03
2018-08-01 16:56:03
Roof Maintenance