NC Tarp IT!
 

Emergency Tarp Installation for North Carolina Residents
When water damage, storm damage, fire, or other disasters occur on your property, you'll need to act fast to protect it.
Deploying an emergency tarp, or other temporary roofing, on exposed areas of the roof and exterior walls, can be an effective form of protection if done properly.
This is a crucial first step to ensure you don't incur further damage, complicate the property restoration process or keep you from getting back to normal as quickly as possible.
Call on Academy Roofing, an experienced roofer in the North Carolina area. We're a Licensed and Insured Emergency Roofing Contractor and Re-Roofing Specialist. Serving the weather affected areas of Wilmington, Jacksonville, Topsail Beach, and Surf City, North Carolina.
Please don't attempt installing a roof tarp yourself. Roofs are a potentially dangerous place to work even in ideal conditions, much less when storm or water damage has left holes or weakened spots in the roof where someone could easily get hurt.
Hiring an experienced roofer that specializes in addressing roof damage is a smart move. At Academy Roofing, we have decades of experience in helping homeowners, business property owners, and property managers navigate the ins and outs of successful insurance claims. As you file your claim, we'll assist you by providing documentation, offering straightforward guidance, and working with claims adjusters.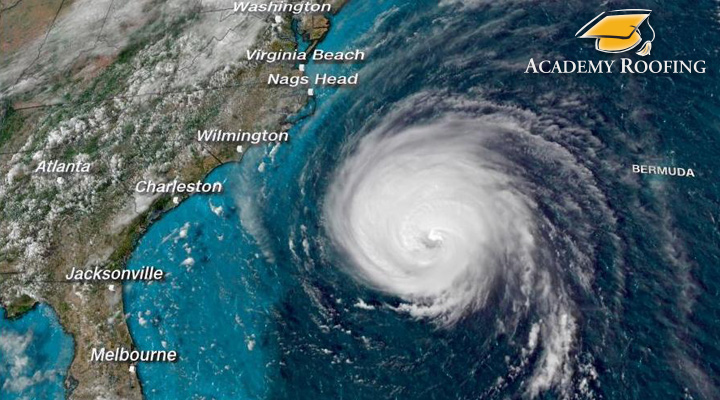 How to Proceed?
Call Now — Get our skilled team onsite to swiftly install a tarp and stop the damage from getting worse.
Get Informed —
Receive a complete, accurate assessment of your property so you can focus on making an educated decision. We'll help you navigate the maze of insurance estimates and claims with straightforward, honest guidance.
Get Back to Normal —
Our smooth, no-nonsense approach will help turn your life right side up again in no time.
We'll make the process straightforward and helpful, giving you a property restoration experience that is as stress-free as possible.
Any kind of catastrophic damage to your home can leave it vulnerable to severe weather. Emergency Tarp Installation Services from Academy Roofing can help protect your home from further damage.
To learn more about what Academy Roofing can do for you, Contact Us Today at 877-410-ROOF!